Under pressure to generate national media visibility for your institution? Need some help? You've come to the right place.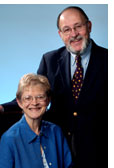 DOBISKY ASSOCIATES specializes in national media relations for higher education. We are a skilled team of advancement, communications and marketing professionals that works to develop the full potential of external relations efforts of colleges and universities.
We work with major national media in New York, Washington, Boston, Chicago, Los Angeles and other cities and serve our campus clients by:



pitching stories,
arranging visits for presidents, faculty and other newsmakers, and
monitoring the national media scene and alerting clients to developing story opportunities and to media in need of expert sources.
DOBISKY ASSOCIATES works closely with presidents and chancellors, preparing them for interviews in national media offices, arranging the interviews and accompanying the newsmakers, and providing necessary follow-up.
We help develop communications and marketing plans, gain attention for your special projects and can assess the effectiveness of your public relations office. We also help develop crisis communications and offer timely advice when a crisis looms.
With more than 28 years of experience, DOBISKY ASSOCIATES has earned a solid reputation with our clients and with the national media. We are known for:
working closely with our clients; we become part of your team;
honest counsel on what will work with the national media; and
long-standing relationships with clients and with reporters and editors in
the national media.